RVN – Tokenisation made easy for any Business (Project Proposal)

This webpage is aimed at Ravencoin Foundation, Tron Black and all the RVN Community developers.
I am a RVN fan since 2018. I am the administrator of www.rvn-dashboard.com as well as www.ravencoin.timeline.ovh. You can reach me on Twitter @RavencoinT. I am not a developer, so pardon me if you feel my suggestion is a joke or not doable.
I think Ravencoin it is a promising technology, still a bit in advance on its time, but that could be widely used over the next few years… if, and only if, its usage gets made easy for non-tech people, businesses and entrepreneurs wanting to tokenize their products, services and also company shares.
I am well aware that RVN development is a slow process, that a few wallets are currently under developement to allow Assets transfer, that the RVN protocol is getting improved, and that a long waited upgrade is coming up.
That said, I think that the blockchain world is ultra technical, still too much geek orientated. Ravencoin technology does not deviate from this rule.
It is extremely complicated to get into it, to understand technical terms and processes for non-technical people.
Because of this, a revolutionnary project like Ravencoin expansion gets very much slow down, and could eventually fail against other projects perhaps more intuitive and user friendly.
In order to get a wider and faster adoption, I suggest that the Ravencoin Community – its Foundation – and the Developpers, develop  an "All-in-One" package targeting non-tech users, small businesses, shops, artists … etc.
This "All-in-One" application would be a decentralized Web 3.0 application, that almost anyone could install on an online server, a bit like WordPress.
This application would be everything at once: a RVN Wallet, an Asset Manager, a communication tool, a place were you can easily purchase RVN and also pay dividends or Bonuses to your customers / subscribers …
This application would be easily customizable with Logo, color schemas, branding name.
The core of this application will allow anyone, any entrepreneur, to easily tokenize a product or a service  via a user friendly interface.
I invite you to check the following tabs – where I tried to assemble a user interface making the usage of Ravencoin protocol transparent. Creating a Main Asset, Sub-Assets, transfering or selling them should be a breeze, very user friendly, with non-technical user-processes as well as in plain english.
This could be the main portal page for business, entrepreneurs, shops, artists wanting to tokenize their products, services or comany shares.
This "all-in-one package" should be decentralized, installed on an online server.
Each installed "all-in-one package" would run a Ravencoin node in the background, making the blockchain more secure. Other services, like a webserver and a database would be also required to store basic info and cached data.
Once installed, the Business could simply "Sign Up", providing various basic informations, bank details (to allow easy RVN purchase) as well as "Main Brand name", equivalent to the Main Asset.
The Main Asset would then automatically be created once the all process is done.
Let's move onto Tab – 3 –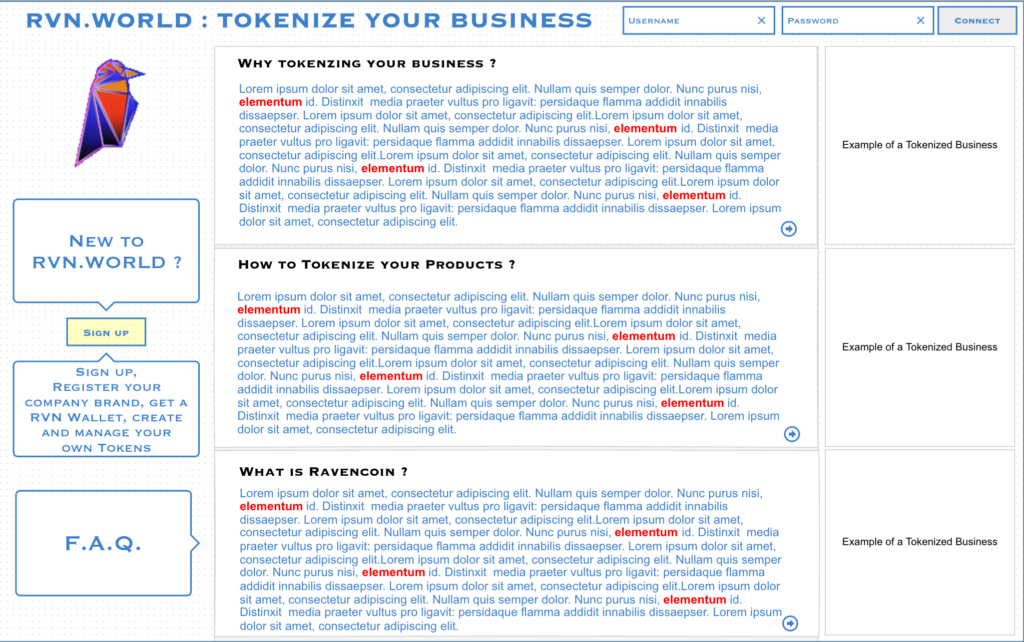 This would be the Administrator main page.
Check the Left Menu – self explanatory.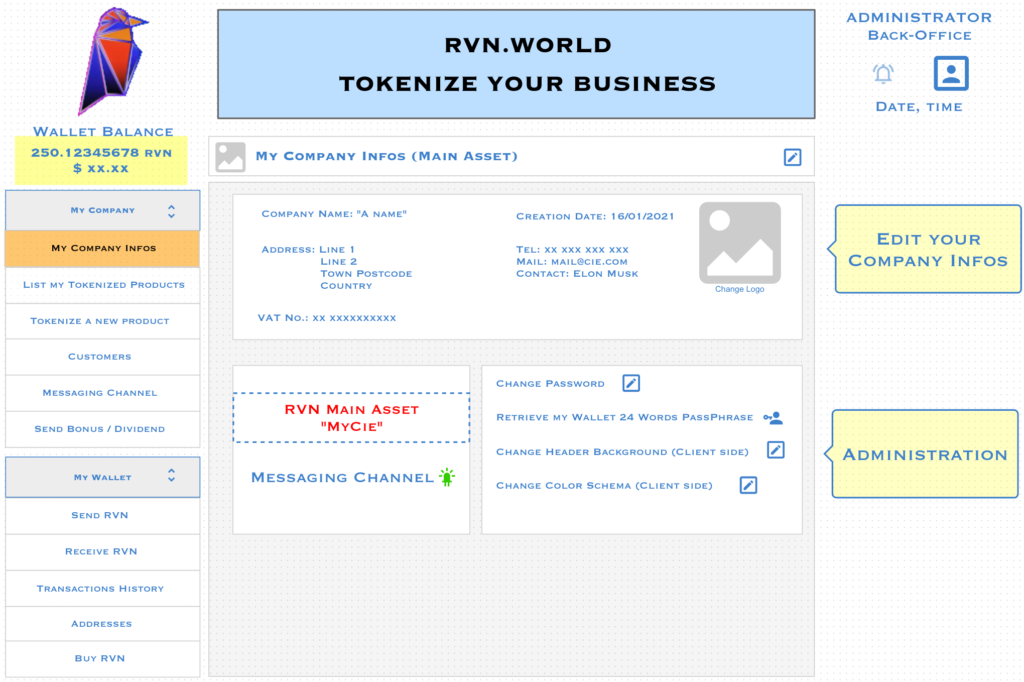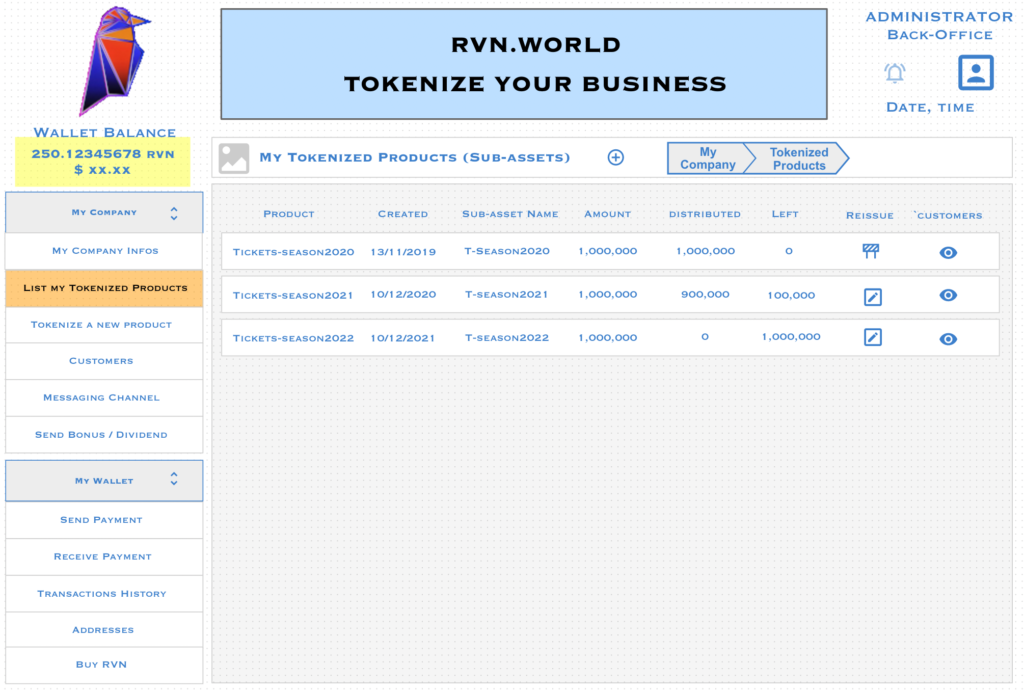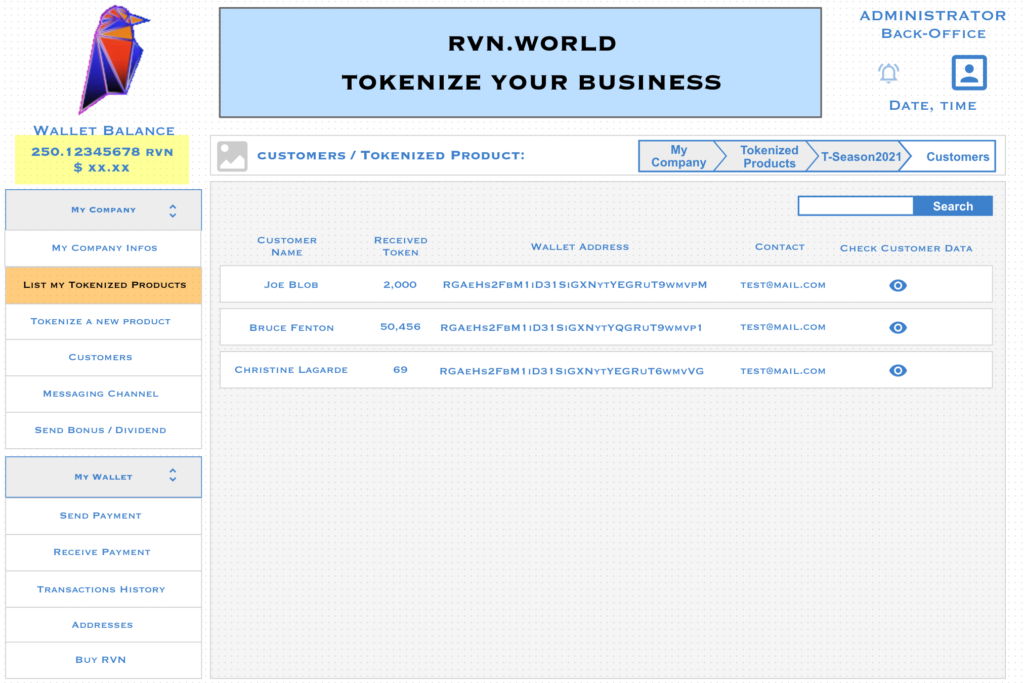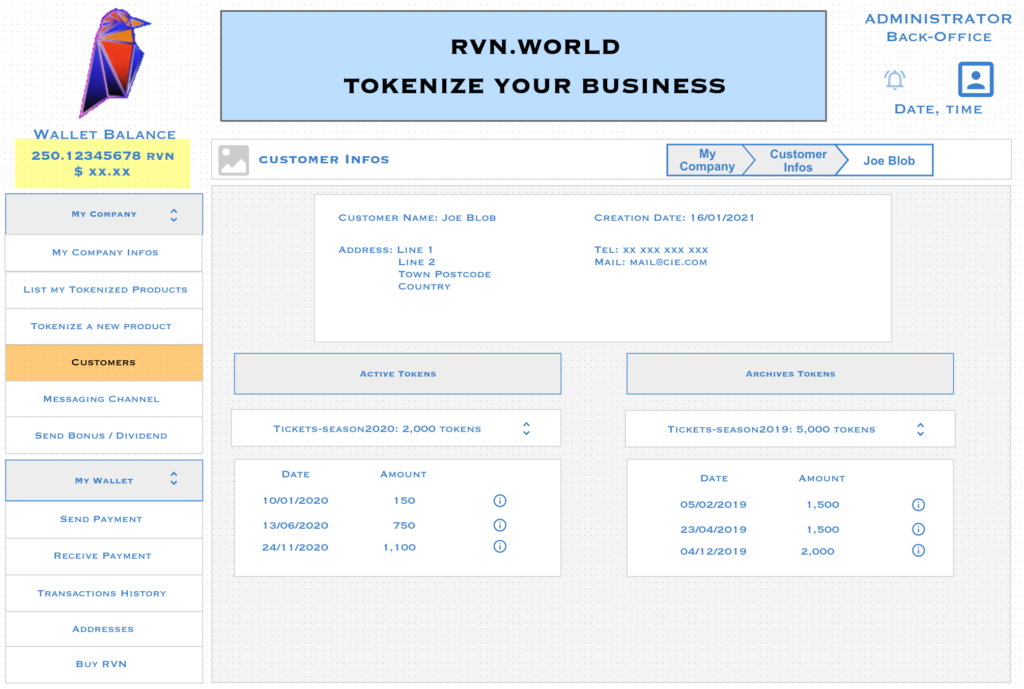 This is where new Products (or Sub-Assets) can be easily created.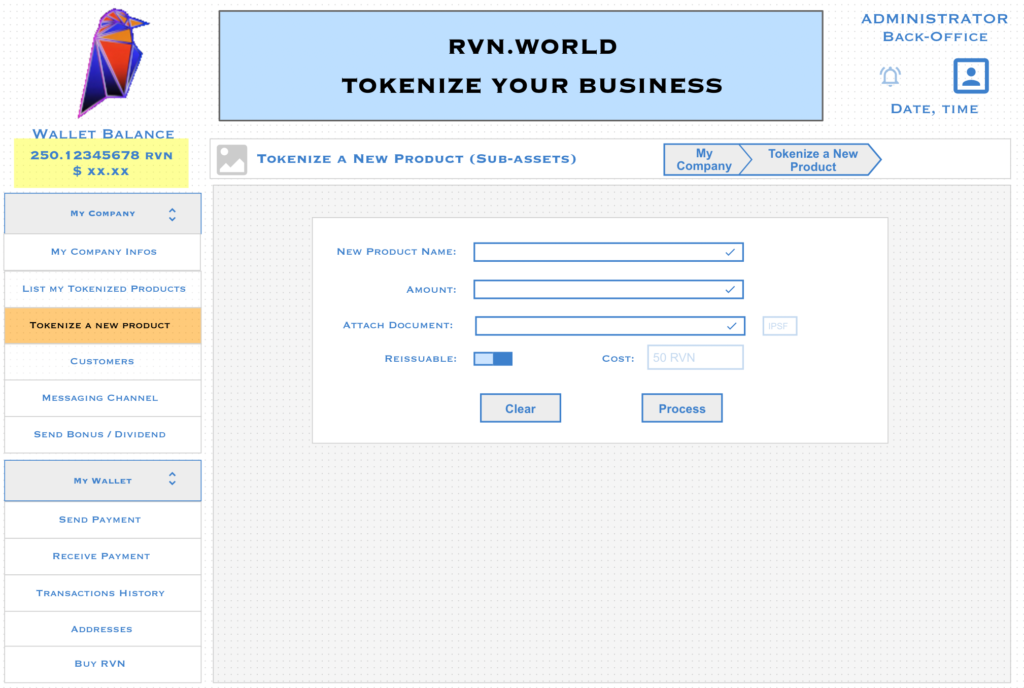 The Ravencoin Protocol allows secure communication between token holders.
The interface must be simple enough to let Administrator to send messages, like News-Letters for example.
We might be able to attach a file via IPFS for each message … To be confirmed for RVN Developers.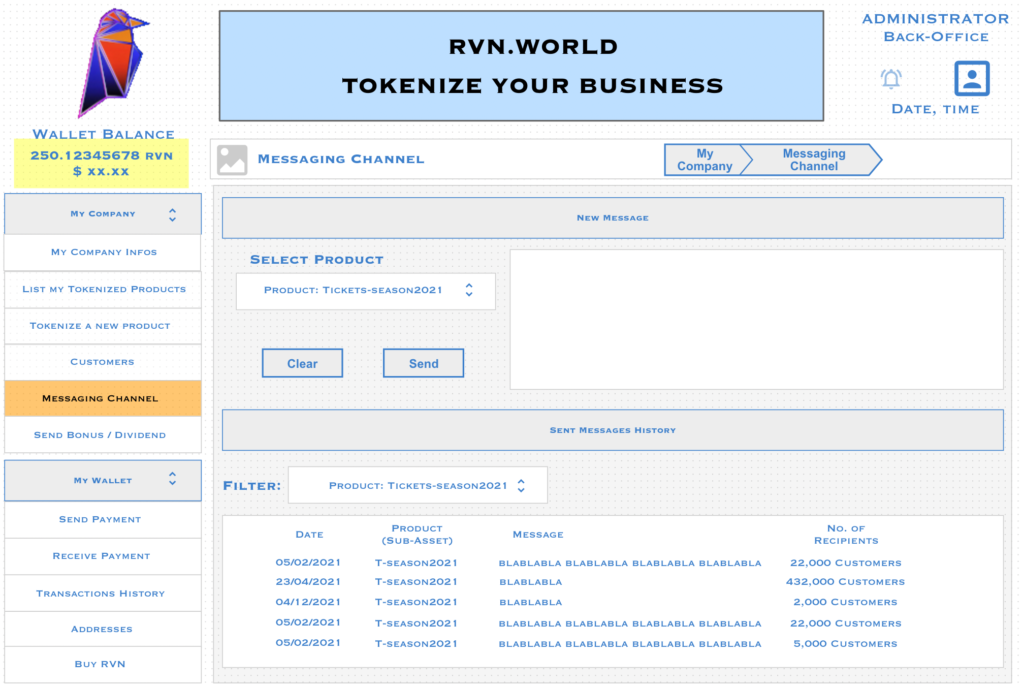 Ravencoin Protocol is very powerful.
Administrators should be able to easily send Bonus/Dividends to token holders.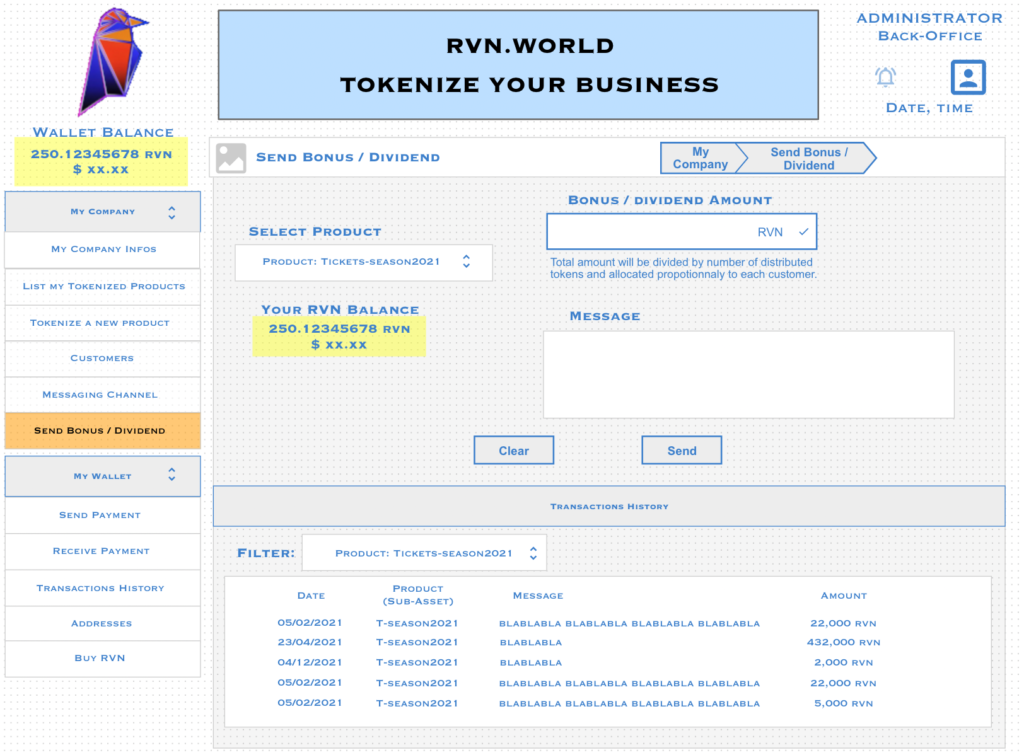 This is the Client Interface.
A customer "holding tokens" provided by companies, shops, artists tokenizing their products, services et company shares.
From this client interface, token holders (Customers) would be able to easily check their tokens, communicate with the token provider, receive Bonus & Dividend, purchase RVN, Transfer or even sell the tokens they own.